A different kind of (rail) Road Trip to Fort Branch, Indiana!
A different kind of (rail) Road Trip to Fort Branch, Indiana!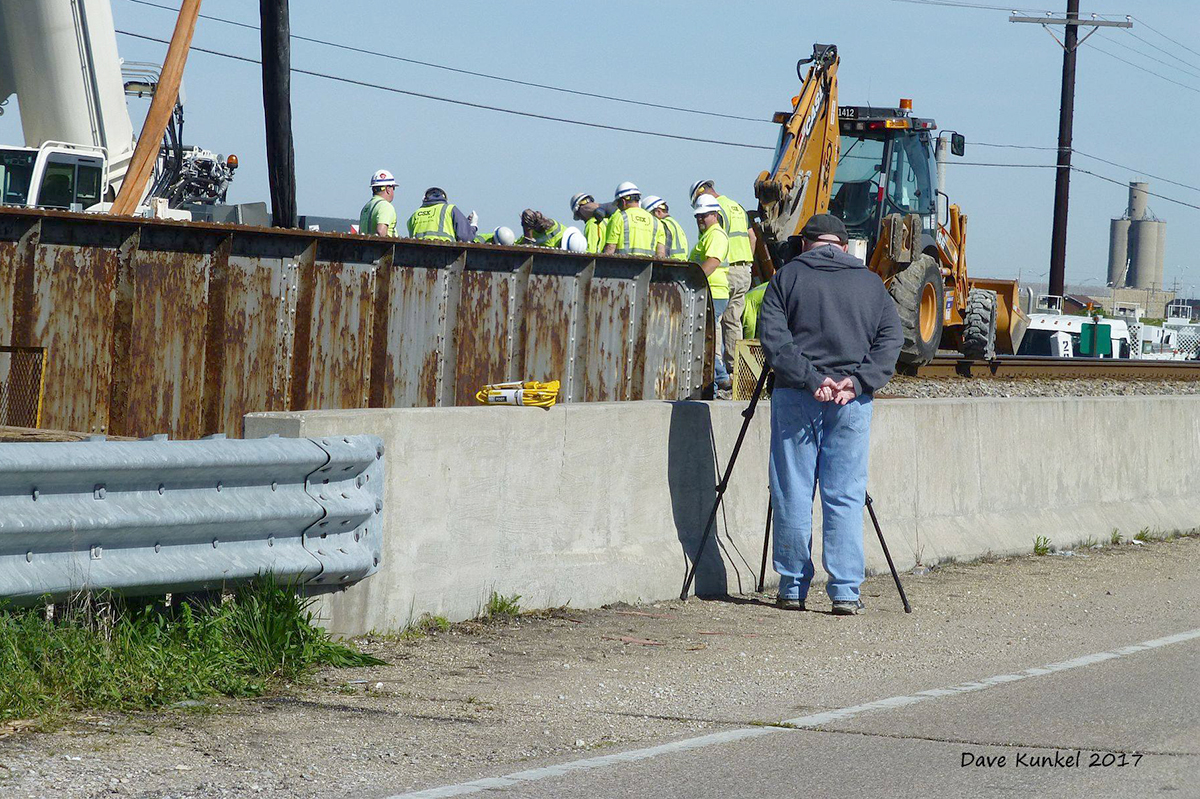 Earlier this week I set out on a day-long road trip to southern Indiana to shoot what's called a time-lapse video of CSX Railroad changing out a bridge just outside Ft. Branch, Indiana.
Time-lapse photography is a technique whereby the frequency at which film frames are captured (the frame rate) is much lower than that used to view the sequence. When played at normal speed, time appears to be moving faster and thus lapsing. For example, an image of a scene may be captured once every second, then played back at 30 frames per second; the result is an apparent 30 times speed increase. Time-lapse photography can be considered the opposite of high speed photography or slow motion.
Processes that would normally appear subtle to the human eye, e.g. the motion of the sun and stars in the sky, become very pronounced. Time-lapse is the extreme version of the cinematography technique of undercranking, and can be confused with stop motion animation.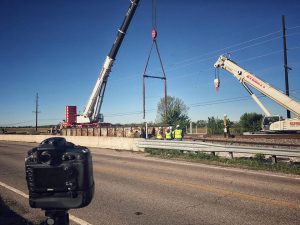 Work was supposed to being sometime around noon, but I wanted to make sure that I was there in case they started early, so I was up at 5am!! Yes, I said 5am!! Any of you know that as a rule my climb out of bed time is 8am, so yes, this was a bit of challenge. 
The drive up was smooth, this early in the morning on a Monday, so I guess that's one thing that was good about getting up this early.
Weather was wonderful! Only thing I wish was there were a bit more clouds in the sky! I love clouds in my photographs and in a time-lapse they really add to the movement of the overall scene. However, it was mostly clear for the duration of my 6 hours of standing around the site where the work was being done. Yes, I said six hours! 
I had to park a good distance from the location where the work was going on, so at least I got a good bit of my daily 10,000 steps in by walking back and forth to the car for things like water, fresh batteries for the camera and so forth. I packed for the day long shoot with snacks, water, things to read and plenty of batteries for the camera. Only thing I forgot and didn't think of until I was about 4 hours into the shoot, was suntan lotion! By the time, I remember it was a bit too late so for a few days after I was red faced! I did at least wear a hat and long sleeves! Next time I won't forget! My face is still peeling!
The crews got clearance to start their work at about 9:50am and by that time I had figured out how I wanted to position my camera and the rate that I would shoot pictures for the final video. In case you're interested, the camera was set to take a picture every second for the six hours! That's a total of about 21,600 individual photographs! Once they were combined into individual movie clips I had a total of 23 video clips of the operation with about 15 minutes of video that I edited down to the final clip of just over 7 minutes that you see below.
I really enjoy doing time-lapse videos, but they are time consuming and take a bit of planning. Plus, there as to be plenty of movement that takes place to provide interesting visuals! While it's not something I think, I could do on many of the longer road trips that my sister and I take, I plan on trying to do some more often for everyone's enjoyment and pleasure!