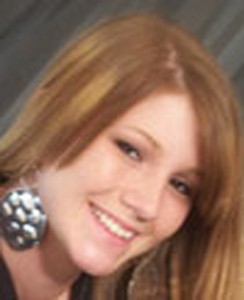 My oldest granddaughter is getting married in May.  She is borderline between "thrifty" and "Scrooge."  My beautiful twenty-something single mom has begun to sound like a baby-boomer when she complains about the prices of everything from a cup of coffee to nice clothes.  This is the same girl that used to buy $50 flip flops because they had the Nike logo on the sole.   Of course, that was before she spent the last couple of years surviving on her own.  
Her plan was to find a dress online and order it.  Her mother, knowing how unlikely that was to fit properly, drafted me to help her figure out the size.  I thought, knowing that "off the rack" probably would need altering, it would be better to buy something at a local establishment where they would be able to make any necessary adjustments.
I looked online and found a formal/wedding shop in Richmond, KY where she lives.  I called them before hand and was assured that they had wedding dresses starting at around $100 and did alterations in the store, plus everything was supposedly "on sale."  The person on the phone said, if we came in right away, there would also be time to order a dress, if they didn't have anything she wanted in stock.  
I made an appointment and we planned the day.  Jim and I would drive from Madisonville to Richmond (about a four hour trip each way), pick her up from work and make an afternoon of it.  First the wedding dress, then to Peddlar's Mall  to look for a crib, and Walmart for a high chair.  Unfortunately, it turned into a "God laughs" situation.  
The sales person, in the wedding store, said it was too late to order and be sure of getting it in time for May.  I know I had told the phone person the wedding date before she mentioned the possibility of ordering, but I neglected to get her name, so I let it slide.
Next, we're told, they can't, presently, do alterations in the store because they are too busy.  Instead, we were given a flyer for someone they recommended.  Ok, she comes recommended and the flyer says she had 30 years experience.  I can deal with that.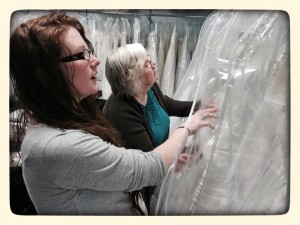 Discouraged, but determined, we navigated to the wedding dress area, two walls lined with white dresses in plastic bags.  They were sorted by size and her section was about 6 foot long.  There was nothing on a manikin, just wire hangers on a rod.  Her long suppressed inner snob rose to the surface, "This looks like they brought them down from someone's attic and put them out for a yard sale."  
We found nothing for less than $350, most of them were in the $1000 to $2000 range.  Our price range did not extend that high.  We were prepared to spend $300 or $400, maybe even a little more, but the dresses for that price were short and my baby girl had set her heart on a full length one.  
Maybe she would have been willing to compromise if she hadn't already seen one online that she loved for less than $200.  Our concern with ordering it had been finding someone reliable, locally, to do any necessary alterations.  At least, that was solved.  We had the phone number and information of the Alteration Lady.  
The online store said the dress would arrive by the middle of March, if ordered within the next twelve hours.  The Alteration Lady's flyer said she needed, at least, 30 days to avoid "rush job" fees.  We decided to take our chances on everything coordinating and fled the "yard sale presentation" store.
At Peddler's Mall, where we had bought a bassinet and several other baby type items on previous occasions, we found no joy either.  Other than a couple of antique wooden high chairs without trays, the only baby equipment they had, at present, was strollers.  This didn't seem like too big a deal, the crib isn't really urgent, it was just frustrating.  
That's when things really "went south."  Walmart, the mega-have everything, one stop shopping "big box," was out of high chairs!  This was, more or less, urgent since it was to be a birthday present for her little girl.  I had promised to buy it and I wouldn't be back before our Journey turned one.  
Meijer's saved the day.  They had a good selection and we found one that satisfied both sides of her personality, practical and not overly expensive, but still nice and suitable for a boy or girl.
The high chair was bought and we had also found a pair of boots for little girl.  There's still lots of shopping and preparation to do for the wedding but, once I found and ordered a veil online while driving home, the most important part is underway.  I'm sure the process will require more visiting back and forth, but it will all be worth it.