Planning the Year
Planning the Year
You'll see in the sidebar the big trip for this year. We will be spending the whole month of September traveling from home to Los Angeles and back. We are excited. I've planned the itinerary, mapped the route, and found our lodgings. Jim has even made some of the reservations. Now, if only he can get his knee surgery done in time to be recovered by then. He's got a torn ACL and Meniscus. How soon they do the surgery depends on the doctor's schedule. Then it will probably take six weeks to heal enough for him to drive and hike. We may need to adjust our travel plans somewhat if things don't go well.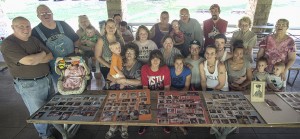 In the meantime, we'll be heading back to Ohio for our annual family reunion in June. The plans are all made for that. Then there's another trip to Ohio later this summer for the dedication of a bench honoring Jim's Air Force unit. Those are definitely on the calendar. Plus a July trip to Holiday World for Damion and Elaina's birthdays which should have ample photographic possibilities. At some point, I'll be going to Charlotte as well, since my youngest grandson has expressed interest in visiting one last summer before he becomes too involved in the working world. Those are the ones that are, at least, tentatively on the schedule.
I'm thinking of asking one of my granddaughters who is going to New York with a friend to do a guest post. She plans to be a professional photographer and I'm sure she'll get some interesting shots. We'll also be going to festivals and other summer activities. Be sure to check in from time to time and leave some comments on the photos.